Now that the DPW's Playa Restoration All-Stars have finished walking the last of the line sweeps in Black Rock City (Leave No Trace!) and our ephemeral metropolis now exists only as memories and photographs, Burning Man has packed up the last of our bags and hit the slightly-less-dusty trail until next summer, right?
Well, not entirely.
While the annual influx of event staff, volunteers and participants continues to be the predominant operation in the area, the last few years have seen an increase in the duration and range of our desert activities. The 3,800 acre Fly Ranch Project brings an opportunity to create consistent, year-round activity. With this project we need to be just as considerate (if not more) of what is needed in five years than what will be needed come August.
Because of the longer view, the work of the first few years of this project has been, by necessity, slower, more deliberate, foundational work. Progress can be hard to see if you're not checking in on it every day. If you aren't focused on the subtle shifts taking place, you can look around one day and suddenly notice the landscape has changed. Well in case you haven't been closely watching the wildflowers at Fly Ranch, I'm here to tell you: The landscape is changing.
To put it simply:
More than 2,500 people came to Fly Ranch in 2018. Cool stuff is happening. There are a lot of ways to get involved.
For those that missed our last update, I'll sum it up for you here:
Friends of Black Rock-High Rock organizes weekly 

Nature Walks

so anyone can explore the property.

Our

Fly Ranch Land Fellow

completed a

preliminary environmental baseline

to map the flora, fauna, weather systems, sensitive areas of the property, and a ton more.

The site has been host to eight Fly Ranch Restoration Weekends, a sustainable energy gathering, locals days, and school field trips.

Burners started volunteering to build key sustainable infrastructure like composting toilets, solar showers, and small upcycled projects like pathways and bridges.
So what's been happening since our last update? Great question.
Work Weekends
Over 3,000 people have signed up to volunteer at Fly Ranch. About once a month, we email our list and invite people to camp out on the property for a work weekend. Our projects have included: cleaning up trails, repairing fences, clearing debris, installing temporary shade structures near the ponds and campsite, building a set of nine tables and benches with recycled wood donated to the BRC Burn Garden wood donation station (thanks Bernard, Build-a-Bear, Rebel, Tim, and Grizzly Madams!), and clearing, cleaning, repairing, and painting a three-room shack that has become a defacto Greeters station.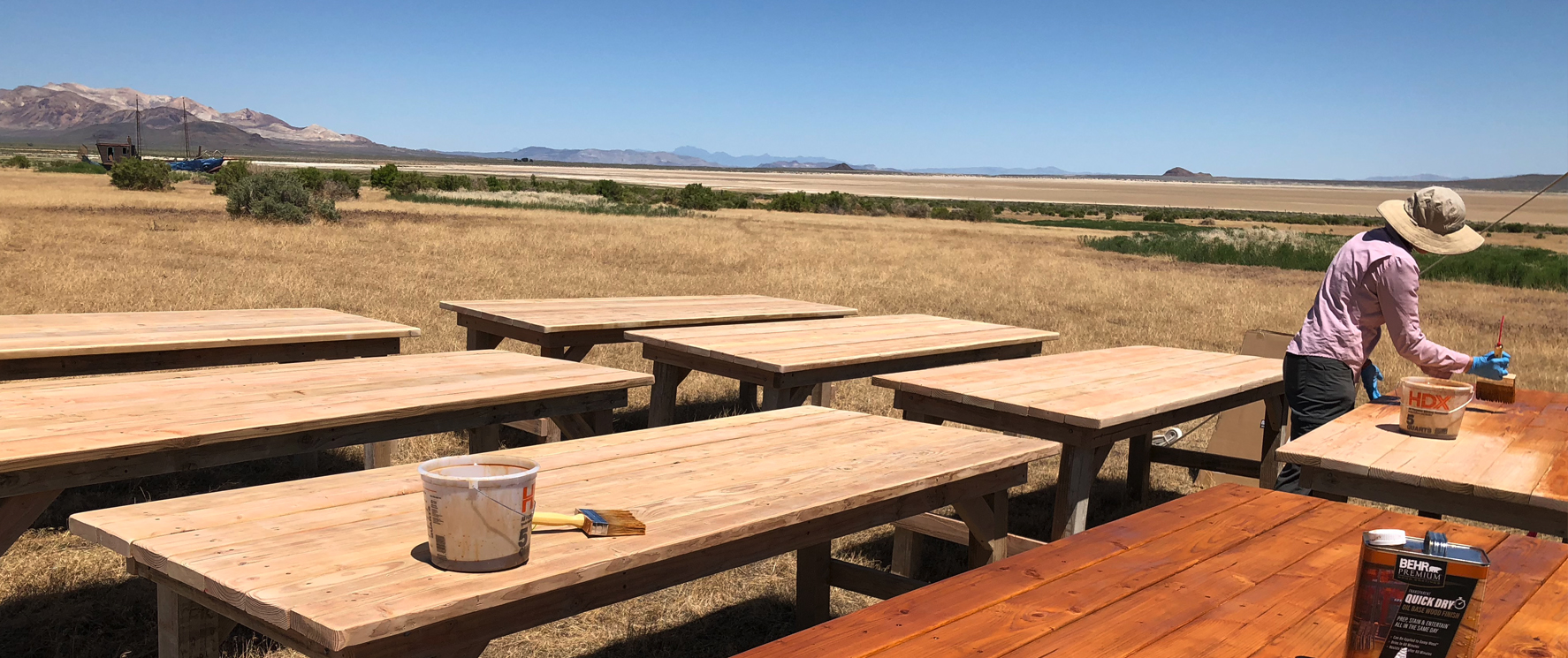 Curious why you haven't heard of these weekends and want to get in the know? Sign up for the Fly Ranch newsletter!
The Pier
After romancing the Esplanade in 2011, 2012, and 2017, The Pier is at Fly Ranch as the first test art installation onsite. In May, Matt Schultz and The Pier Crew gifted a little bit of magic to all those who come on the Nature Walks by bringing The Pier up from The Generator in Reno and installing the piece along the walking route. Matt his crew had come up for a previous work weekend, been inspired by the landscape, and selected a site location for the installation (appropriately nestled on the edge of a small dry lakebed).
Solar Array
After hearing that Fly Ranch was short on power, the Theme Camp Milk+Honey offered Fly Ranch the use of their solar system. Milk+Honey brought the system out from the Bay Area, led an installation project, and taught a group of Fly Ranch volunteers how to operate it. This system powered almost all of the activities on Fly Ranch for the Summer.
This is just one example of how the infrastructure and resources for Black Rock City (which are often times sitting in storage for 11 months of the year) can be deployed to support Burning Man culture year-round at Fly Ranch. Got something kicking around in storage you think would be helpful? Drop us a line at gro.namgninrubnull@hcnarylf.
Prototype Gatherings
Fly Ranch hosted a handful of small prototype gatherings this summer. These experiments were designed to test the site and its systems. We used composting toilets, an off-grid kitchen, and various housing solutions and part of community-organized gatherings with a variety of programming, activities and speakers. Some of these gatherings were a general mixture of artists, staff, volunteers, and folks that have been involved in Fly Ranch to date, and some had a more specific focus around a particular topic.
One gathering was a conclusion to the Fly Ranch Energy Fellowship. We brought together renewable energy leaders, folks that indicated an interest in alternative energy while signing up for the Fly Ranch newsletter, and Burners with a passion for solar, wind, and geothermal. Thirty people explored the property and its potential to host innovative and scalable energy projects. In 2019, we plan to build off of these experiments and empower community leaders to host their own events at Fly Ranch.
Banya
The Theme Camp Art of Steam tested a unique healing experience and source of warmth during the cold nights at Fly Ranch. After four years of building and bringing their Russian-style Banya steam rooms (think 'wet sauna') to Black Rock City, the camp installed their 2017 BRC art project "The Onion" for the use and enjoyment of volunteers and campers at Fly Ranch. Their team of steam masters offered treatments to weekend participants and taught lessons on the technique, methodology, and history of the banya in Russian culture. To top things off, The Onion is powered by the solar array offered by Milk+Honey. Heck yeah, communal effort!
Black Rock City
You think that after a season of camping out in the desert doing Burning Man type stuff we'd be sick of it, right? Nope! In addition to being a bucket of fun, Black Rock City is a unique opportunity for the Burning Man community to explore what this crazy thing looks like year-round at Fly Ranch. To that end, Burners Without Borders hosted a trio of panels at their camp as a part of their daily speakers series. Topics ranged from how the community might approach placing art within a dynamic landscape to how Fly Ranch could serve as a platform for Radical Inclusion and engage groups beyond those that might already consider themselves "Burners". At each talk, participants were invited to throw their names in a dusty bucket for a random drawing of twenty folks that left immediately on a field trip to Fly Ranch.
View this post on Instagram

As if this weren't enough fun, we took the opportunity of having 70,000 new nextdoor neighbors to create some spontaneous, and perhaps unexpected, experiences. We drove around Black Rock City asking random unsuspecting participants if they wanted to "go on a magical three-hour adventure." Those with the heart to say yes without knowing what was in store for them were swept away on an impromptu field trip to hike, explore, and soak at Fly Ranch. The moral of the story… say YES to adventure (at least, most of the time)!
So What's Next?
As the season winds down and the days get shorter, the Fly Ranch team is excitedly getting ready for next year. We're diving into budgets and preparing the next version of the Fly Ranch Roadmap. We're hoping that in addition to more of the above, we'll be able to offer open camping, more onsite projects, and some exciting announcements related to the next phase of the Fly Ranch project.
We've been approaching the Fly Ranch project as an open-source site for testing Burning Man culture and projects. What's happening at Fly is the result of what people want to create. They dream it, they bring it. Just like Black Rock City. If you have an idea to propose, we'd love to hear about it. You can read our roadmap and the linked documents to get a sense of how we approach projects. If you feel inclined, send us a short proposal at fly ranch at burningman dot org to start the conversation.
In the meantime, keep an eye on the landscape. Sign up to receive the Fly Ranch Newsletter to see what's coming around the bend and check out the Fly Ranch Instagram to see what's happening from week to week. Or, come see it for yourself by joining a Nature Walk. For those that want to spend a few nights at Fly Ranch, we've got one more Work Weekend on the horizon in November (winter is coming!). If you can't make that one, don't sweat it, you won't have to wait 11 months to come back out and play.
I mean, have you BEEN to the Black Rock Desert in February? Because it's beautiful.